Fome May 6 to 9,2015, there is a most important oil exhibitions in Middle East, with solids control system solution and drilling waste management solution. In this oil show,KOSUN stroke a pose on the stage at the 20th Iran Oil Show. As solids control system solution and equipment provider for GAZPRO
Fome May 6 to 9,2015, there is a most important oil exhibitions in Middle East, with solids control system solution and
drilling waste management
solution. In this oil show,KOSUN stroke a pose on the stage at the 20th Iran Oil Show. As
solids control system
solution and equipment provider for GAZPROM, PDVSA and other major oil drilling companies,KOSUN has won trust and favor from customers by virtue of excellent performance of perfect system and professional equipment.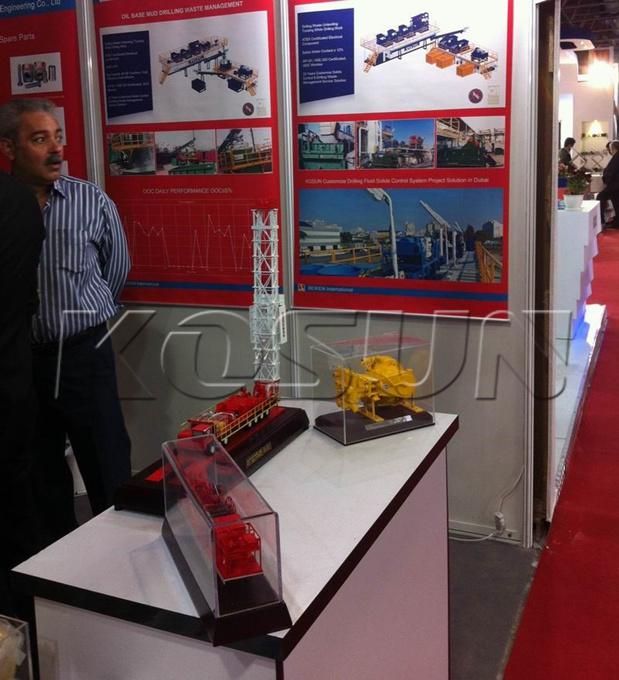 Foreign Customers Visiting KOSUN Drilling Solids Control and Waste Management System
Random discharge of drilling waste produced during drilling operation without treatment causes serious pollution to surrounding water sources and soil. With the enhancement of environmental protection awareness, more and more customers and projects start to pay attention to
drilling waste management
. KOSUN can provide customers with perfect water-based and oil-based mud
drilling waste management system
and solution. With KOSUN solids control system, it not only meets national discharge requirement of "Zero Discharge of Drilling Waste" and promotes social image of the enterprise, but also helps customers greatly improve mud recovery during drilling operation and save invested cost.
KOSUN drilling waste management system has been applied at customers' drilling sites in Africa and other countries. KOSUN drilling waste management solution can control OOC of oil-based mud below 5%. Excellent site performance wins customers' praise and they intend to visit our head office for business negotiation.